Cooking shouldn't feel like a root canal.
Culinary Travel Adventures
Travel broadens your mind and your horizons. Experiencing the cuisine of another country and staying with those who know the area, further enhances your experience. La Combe en Perigord is the home of Wendely Harvey and Robert Cave-Rogers outside the town of Les Ezyies. Your week at La Combe includes trips to markets in small towns searching for the best produce for our cooking classes. Trips to artisan food purveyors, wineries, castles, medieval and renaissance towns, and the caves at Lascaux are a few of the treats in store when you experience the real France.

Traveling to the United Kingdom

London is the most expensive place on the planet; but you can stay and eat cheaply, and enjoy all that the city has to offer by doing your homework. Dr. Chuck and I love the Hoxton Hotel (www.hoxtonhotel.com) in the trendy Shoreditch area, east of the city; a short walk from the Old Street Tube station, and you are on your way to other areas of London. If you are planning to come to London, get on the Hoxton's e-mail list, they have frequent sales, and Dr Chuck and I are staying in a great room, with flat screen TV, light breakfast, and free internet for L30 a night. There are some sales where these rooms go for L1 per night.
Buy an oyster card for the tube before leaving the states (www.visitbritain.com) and use the tube and buses during your stay, they are simple to use and cabs can be expensive. One of our favorite restaurants here is Wagamama (www.wagamama.com) a chain of Asian noodle houses, where you sit at communal tables, and slurp delicious noodles in many different forms. (Dr. Chuck likes the ramen) The restaurant in the Hoxton has a terrific restaurant deal; 7 entrees served before 7 p.m. are L7--a real deal in this pricey town. Theater tickets to shows that have been running for a while can be bought at 1/2 price in the TX booth in Leicester Square; do your homework, and check out the seating plans before you buy. Souvenirs? If you are looking for bargains, good luck; the national trust shops have nice merchandise that doesn't look like the tacky shops in the midst of high traffic tourist areas. The airport has a great variety of shops, and the prices are about the same as they are in town, plus once you get past security, you can fill up those bags with whatever you'd like. Make sure to bring a power converter for each country you plan to visit, and wash cloths. For some reason europeans don't use them; I bought a set of 12 at Costco before we left, and have left them all over Europe--no need to take up room in the suitcase, when I could be buying tablecloths in France!
Heading out of London, take the train, and rent a car at your destination; congestion charges are charged in London, so beware of driving into town. They also drive on the left side, which was a bit unsettling for this dyslexic blonde! Duxford, near Cambridge, is the home to the Imperial Warm Museum which houses 6 airplane hangars filled with planes from all eras, including a Concorde SST. This is a whole day if you are married to a museum junkie; they also offer rides in some of the old aircraft, and Dr. Chuck got to ride in a Tiger Moth bi-plane. We stayed at the Duxford Lodge (www.duxfordlodgehotel.co.uk) , a beautifully restored house, with a terrific restaurant, offering breakfast, lunch and dinner. Cambridge is a beautiful University town, and worth the drive, to stroll the streets, and peak into The Eagle Pub where Watson and Cricke unraveled DNA over a couple of pints. The back room was a haven for pilots during WWII, and they burned their names, and squadrons into the ceiling of the back room, also with some lipstick signatures from local girls. Evensong at Kings' Chapel is not to be missed!
The surrounding areas are beautiful, with Ely Cathedral about 20 minutes away, and Newmarket famed for horses about the same distance.
To and from the airports: Heathrow Express goes from Heathrow to Paddington Station; from here take the tube, or a cab to your destination. Tickets for Heathrow express can be purchased on line through rail europe. (www.raileurope.com)
Stansted express from Liverpool Street Station to Stansted (Stansted is a hub for some of the low cost inter-European airlines. From Liverpool take the tube or a cab to your destination.

A Bit about Paris

Paris is a big city, but oh what a city! The foods, the people and the sights, are all part of the experience, and although I prefer the countryside to the big city a night or two in Paris is always fun. People watch in cafes during the day, stroll the streets, get lost, and most of all have some fun!
A pre-dinner drink at the Hemingway Bar at the Ritz will get the evening off to a great start; Colin Field will mix you a special drink, just tell him how you are feeling, and he'll fix you right up. Many of Hemingway's possessions are still in the bar; the typewriters and his library. Dont' look at the bill; this is an experience!
I like eating in smaller and less well known places in Paris, the food is great, and you'll have a wonderful time. Table de Fes is my favorite; madam and her husband turn out some of the most delicious couscous and Moroccan food I've ever had; you've never had couscous like this. (Comparing this to the airline Charlie Trotter meal that had marble-size couscous is a sin!) Madam is a whirlwind, hopping from one table to another, and try your French, she is sweet, and loves to serve. We love the lamb with prunes, and the chicken with citron and olives.
The St. Germain district has beautiful shops and cafes, my favorite being Simrane (

23, Rue Bonaparte

75006

Paris

,

France) a houswares store specializing in Indian designed fabrics that are made in France. Take a look into Laudure the famed macaroon shop and pick up a couple of boxes for your friends in the states, the picture perfect confections not only look exquisite, they taste as good as they look! The

Church of St. Sulpice is worth a look, especially if you read the DaVinci Code.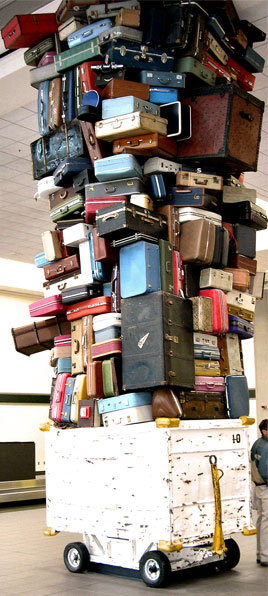 don't forget to leave your suitcases unlocked!
Copyright © 2002-2013 DianePhillips.com